Corporate social responsibility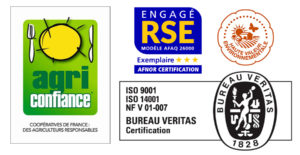 Are you looking for a responsible, fair and locally committed Bordeaux wine ?
You want to consume responsible?
Are you sensitive to local development?
You are in the right place !
The Caves of Rauzan are certified ISO 9001 for the quality management and 14001 for the management of the environment. 
We are committed to the Agri Confiance® green step and certified according to the NFV 01-007 standard for our entire vineyard. 
We are certified by an independent organization to advise our members in their cultural practices.
The Caves de Rauzan are also rated CSR exemplary.
In addition, 10 of our estates have been certified HVE 3 (high environnemental value) and live dealer represent nearly 15% of our vineyard.
Our desire is to make a good wine that respects our territory, our families, our customers and our consumers.
Find here all the commitments of our winegrowers and our company.
Do you want to go further?
Download our sustainability report > Download
Learn more about the cooperative model ?
www.lacooperationagricole.coop
Our cartons and packaging are recyclable!
Our cartons and packaging are recyclable: find out about > What to do with my waste ?
To read > All our CSR articles on our Blog