Mr. PEYRON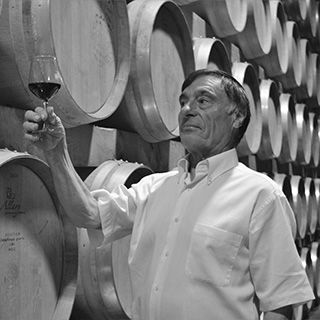 Mr. PEYRON, tell me the history of your 16.5 Ha property ?
From 1900 / 1920, Mr. LANÇADE, an employee at the Château de Blagnac's winery, decides little by little to acquire an 8Ha winegrowing estate. In 1960, Mr. LANÇADE shared his estate between his son and daughter, who is my wife. She inherits of 2Ha of vines. I was a mechanic when I married Christiane DUCAMIN, who became Mrs. PEYRON. In 1989 my wife has taken the family's property over, and we have also decided to become a member of the cooperative winery.
You are certified Agriconfiance (French certification label which guarantee a more respectful approach of the environment), what has it change in your way of working ?
I admit that at the beginning we were not the leaders on the theme of the environment. But when the Agriconfiance certification came we decided to set ourselves to doing a more respectful work for the environment. To do so we had to invest in a cleaning area and in a phytosanitary products' storage area. We also try to reduce our treatments and today we are under the winery's average. Every year we try to optimize at the upmost our treatments.
Why are you part of a cooperative winery ?
When I had my company, I did not have time to take care of the winemaking process and even the less of the commercialization. Therefore we naturally turned to the cooperative winery.
An Anecdote ?
Origins of the name Château Maurine :
A long time ago "La Maurine" was a place of meeting close to a river. Thereafter a winegrowing property has the same name. Mrs. PEYRON bought this property in 2014, since then its estate is commercialized under the name of Château Maurine.