M. Solans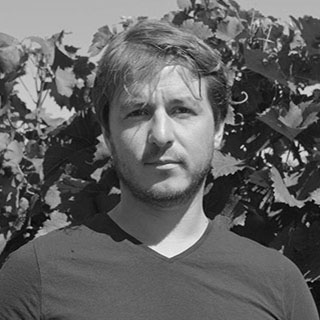 Mr. SOLANS what is the history of your Château ?
My grandparents and my father had a cultivation of mixed farming with 30Ha of vines at Courpiac. I installed myself as a young farmer in 2008 and in 2012 I bought the 10Ha of the Château Des Hauts de Fontaneau in Bellebat. I have for project to expend. I would like to possess 50Ha and maybe from this threshold I will hire a fulltime employee because right now I am alone on the estate.
You are involved in the sustainable agriculture, what does it means ?
First of all I try to use a maximum of green fertilizer. Having bovine, I spread their manure in the vine. After that I am working on a project which to do located fertilization. Using tulles, it is possible to determine the color of the foliage area by area in a plot and thus determine the area which needs fertilizer. The located fertilization will allow us to only use the needed fertilizer.
You are part of a cooperative winery, what are the benefits ?
The earnings security is the major element of my presence in a cooperative winery. Even when the years are bad, the earnings stay correct. Furthermore, having our own winery needs a triple
competence. We have to be winegrower, oenologist and salesman. I prefer to be a winegrower and I entrust the rest to the winery.